THE SMILING TECHNICAL INSTITUTE
Choosing what high school to attend is a decisive moment every student's life, in which interests and passions play a fundamental role.
When the passion is for computer science and technologies, the first step towards the future is to choose ITT Smiling (Istituto Tecnico Tecnologico)!
The Technical Institute is the new curriculum of Smiling International School which teaches students to develop analytical skills, installation and management of information and communication systems, and to understand programming languages.
A high school education that provides students with the tools to best use information technology.
In our school the curriculum is mainly taught in English, Spanish is also studied. In addition to technical knowledge and IT skills, excellent knowledge in languages is added.
What about after graduation?
The technical institute offers students many opportunities for their future: entry into the job market, facilitated by extraordinary technical and linguistic skills, access to the two-year ITS post-diploma courses, enrollment in any university degree.
THE LOCATION OF ITT SMILING
The new ITT Smiling is located in Ferrara in the prestigious Palazzo Gulinelli in Corso Ercole d'Este.
All classrooms are equipped with latest generation interactive whiteboards, workstations with Apple iMac or Windows PC. Professional 3D printer.
Each student is provided with a laptop which remains in his/her ownership.
There is also a large computer room with 30 work stations plus 50 chromebooks available for various educational activities. Students will learn how to use different operating systems.
The school also has a lab for Integrated Sciences (Chemistry and Physics).
Students can enjoy other wonderful spaces for individual study and socializing: the park, the library, and an equipped gym. A canteen service is also available.
University or high school students coming from outside Ferrara can find accommodation in the school residence, Smiling Loft Apartments.
do you want more information?
VALENTINA VIRGILI
Subject: Lingua e Letteratura Italiana
Smiling Teacher since 2021
REBECCA GILSON
Subject: English
Smiling Teacher since 2008
FRANCESCO MASSARI
Subject: I.C.T.
Smiling Teacher since 2016
CRISTINA MANTOVANI
Subject: Chemistry, Earth Sciences, Biology
Smiling Teacher since 2014
LUISA GIUSTI
Subject: Gym
Smiling Teacher since 2018
ANTONELLA ZANETTI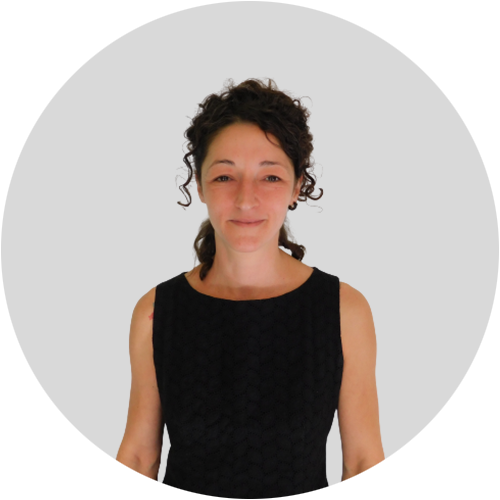 Subject: Italian L2
Smiling Teacher since 2021
LAURA LUNGHI
Subject: Chemistry
Smiling Teacher since 2016
MARIANNA CARPANELLI
Subject: Law and Economics
Smiling Teacher since 2021
YARI NAPOLITANO
Subject: History and Geopolitics
Smiling Teacher since 2022
MARCO MARZOLA
Subject: Physics
Smiling Teacher since 2020
KERRIN MCGLASHAN PANOZZO
Subject: Maths
Smiling Teacher since 2023