[:it]
[vc_row][vc_column][vc_column_text]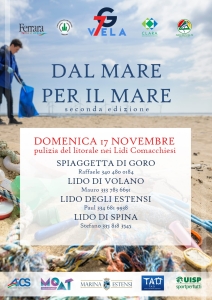 17 NOVEMBRE 2019
Una giornata in cui Smiling si unisce agli organizzatori di questa geniale manifestazione per aiutare il mare: abbiamo organizzato un pullman che ci porterà alla spiaggia del Lido degli Estensi dove, insieme a tanti altri volontari, faremo la raccolta dei rifiuti che sporcano le nostre belle spiagge.
Il pranzo tutti insieme coronerà la giornata di lavoro.
Non dimenticate di portare un paio di guanti per la raccolta
GENITORI E FIGLI INSIEME PER UN MONDO MIGLIORE
PROGRAMMA
8:30 Ritrovo a Piazzale S.Rocco, accanto alla Farmacia n.1
9:30 Arrivo a Lido degli Estensi e inizio della raccolta
12:30 Ristorante Quelli di Flip di Porto Garibaldi
15:30 Rientro a Ferrara
MENU'
per i genitori
un fritto di pesce un drink il caffè
per i ragazzi
una pizza un drink
oppure
una cotoletta con le patatine un drink
IL COSTO
(pullman e pranzo)
genitori € 22cad
ragazzi € 20cad
prenotatevi inviando una email a admin@smilingservice.it entro lunedì 11 novembre
Indicateci per favore il menù scelto dai vostri ragazzi
[/vc_column_text][/vc_column][/vc_row]
[:en]
[vc_row][vc_column][vc_column_text]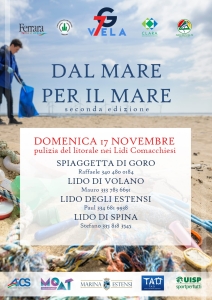 17 NOVEMBER, 2019
A day in which Smiling students will join forces with the organisers of this welcome initiative (see the links above) to help save the sea: we are providing coach transport to Lido degli Estensi, where we will join other volunteers to clean up our beautiful beaches. Your efforts will be rewarded with a lunch all together. Don't forget to bring a pair of gloves to pick up the litter on the beach.
PARENTS AND CHILDREN WORKING TOGETHER FOR A BETTER WORLD
8:30 Meet at Piazzale S.Rocco, near Farmacia n.1
9:30 Arrive at Lido degli Estensi and begin picking up litter
12:30 Lunch at Quelli di Flip, a restaurant in Porto Garibaldi
15:30 Return to Ferrara
Adult menu
Fried fish + a drink + coffee
Children's menu
Pizza +a drink
or
Cutlet + chips + a drink
Cost (transport and lunch)
Parents €22 per head
Children €20 per head
If you wish to take part, send an email to admin@smilingservice.itno later than Monday 11th November, stating your child's choice of menu.
[/vc_column_text][/vc_column][/vc_row]
[:]
https://www.smilingservice.it/wp-content/uploads/2019/11/news-dal-mare.jpg
650
1950
communication
https://www.smilingservice.it/wp-content/uploads/2021/05/SIS_Logo-300x153.png
communication
2019-11-04 16:03:14
2019-11-04 16:03:14
Dal mare per il mare